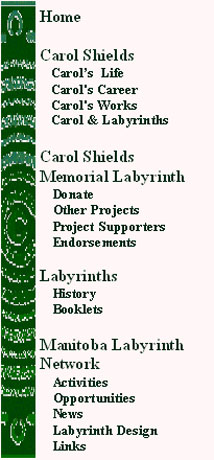 Carol Shields Memorial Labyrinth Site and Design
The Carol Shields Memorial Labyrinth Architectural Rendering
a. existing pond
b. north reading circle

c. west reading circle
d. quote wall

e. centre circle
f. herb/healing garden


g. east reading circle
h. existing path
i. south reading circle
The Quote Walls

The quote walls are a unique component of The Carol Shields Memorial Labyrinth. No other labyrinth in the world has an entry way designated in this manner.

The two Quote Walls feature engraved granite tiles of different textures which display a myriad of quotes from Carol Shields' works. Anyone entering the labyrinth passes through Carol's words. This physically signifies the escape from daily life and the entrance into story, myth and imagination through sight, touch and experience.
The Carol Shields Memorial Labyrinth is:
¤ an outdoor garden labyrinth, commemorating renowned author Carol Shields who is Manitoba's only Pulitzer prize-winning author
¤ The Carol Shields Memorial Labyrinth is in King's Park, Winnipeg.
¤ This garden walkway creates opportunities for people of all ages to enjoy a peaceful, relaxing, natural surrounding, while participating in moderate physical activity.

Wheel Chair Accessibility
¤

The labyrinth is approximately 150' by 150' so that two wheelchairs can pass each other on the pathways.
¤

The pathways are crushed gravel similar to the ones in Assiniboine Park which are suitable for wheelchairs.
¤

This is the only wheelchair accessible outdoor labyrinth in Canada and probably North America.
¤ Snow plowable
• The pathways are 5 feet wide so that it will be snow plowable to allow public access in the winter.
• There is no other outdoor snow plowable labyrinth in Canada and probably North America.
¤ Gardens
• The narrower gardens are low maintenance grasses.
• The wider gardens are small, low maintenance perennials, wild flowers and shrubs.
¤

Commemorative Center


• The commemorative center is approximately 30 feet by 30 feet to provide a gathering place for community groups. To accommodate group activities, we have created a large centre. However, to create a more intimate feeling there is a low garden in the centre area so that a large group can gather in the central core area and around the garden. Individual walkers will find a more intimate experience in the core.
¤

Meditative/Healing Garden


• There is a meditative/healing garden where people can sit, relax, visualize, meditate and heal.
¤

Climbing Rocks


• There are rocks for children to climb on.
¤ Themes
• The stone, flowers and labyrinth design reflect the themes of Carol's books.
• Reading is an integral theme of this labyrinth. Theperipheral reading circles will have reader friendly benches and will provide a more private experience.
¤ One of our considerations in the design of the labyrinth was that it would reflect the prairie landscape.
¤ The design, scale and commemoration will attract tourists from all over the world.